Why bother even getting guppys then? You must be asking this right? Well they are one of the most beautiful fish in the world(by many peoples' standards, not mine). Well, since the general health of imported guppys is bad, and many stores do not like to buy them, then the only answer is to provide locally bred healthy guppys!! I will talk about selling them on the next page.
Let's get you started then. Let the search begin! You must go to EVERY store in your area and examine the guppys they have available. You will only be buying ONE or TWO females. Most stores do not sell virgin females,,they have been kept with a hodgepodge of males and will be pregnant. Guppys that have been with males are ALWAYS pregnant.
Female guppys can have many succesive broods of fry while only having been with a male once. Many people call this "superfetation", not an accurate word but we won't get into THAT!
What you should do is get a 10 gallon aquarium and set it up with lots of plants and make sure it has been established for a few weeks before you buy your guppys. The tank will be a nursery and birthing tank. I don't like seeing breeder traps used,,they cause more problems for the females and babies than they are worth.
After your tank is set up go to the stores and EXAMINE the fish. If your local store has locally bred guppys then you are in luck! If they are foriegn bred guppys then you must look carefully. Watch the fish. You do not want to buy any fish if you see any of the following: shimmying,,that is,,the fish are swimming by twisting their bodies back and forth instead of using their fins, grey patches,,,the dreaded guppy disease presents itself by grey patches or loss of color in the body of the fish,,females show this more,,their bodies are bigger. The disease causes a wasting away of the fish,,,and it kills quickly. Don't buy any if the fish are just hanging under the surface,,not swimming,,or if they are just laying on the bottom. A healthy guppy should be swimming constantly,,,moving around nonstop,,,ask the store to put a little food into the tank,,,,the fish should immediately go for it,,,if they don't don't buy them,,and for GOD's sake,,,don't buy the fish if the store won't feed them,,,in fact,,never go to that store again.
Look for one or two females that look healthy and have rounded bellys. Don't buy them if the bellys are flat. There is a gravid spot in the anal region(see pics), this is an area where you can see the developing young,,it gets large in expecting moms.
Pick no more than two females and take them home to their tank. If they are pregnant, and they should be,,,then they will have their babies in a few weeks. Healthy female guppys have babies every 30 days or so,,,they can have from 20 to 50 or so babies each time. If your tank is heavily planted then very few babies will be eaten by the females. When both females have given birth I HEAVILY SUGGEST taking them back to the store and never buying any more. You have your brood stock to start on your adventure of creating yor own home bred fish.
I will get into more detail breeding and selling on guppy page two. See you there!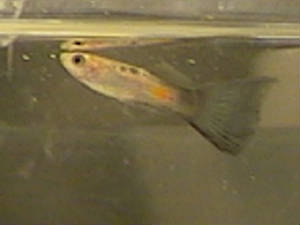 a less than spectacular strain of "purple" tails